I'm proud to inform that a feature my team originally built as part of Read/Write World back in the fall of 2011 is going live on Bing.com to display panoramas from Photosynth (esp. in this case 360 Cities).
Kudos to Bing and the Photosynth team for making it all come together.
FWIW, I lead the small team and architected the original technology that could render high-detail 3D surfaces, including panoramas, across most browsers (via WebGL, Canvas, Silverlight and even Flash if needed) with the same high-level Javascript running everywhere. The hard work was done primarily by Peter Sibley, Hansong Zhang, and Adam Mitchell. Kudos to the PM, David Gedye, for tirelessly working to get this technology on the Bing.com homepage. And special thanks to Blaise for supporting it and the whole sprawling vision.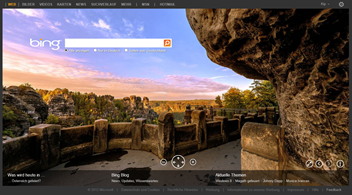 Of course, this is just a very small part of what Read/Write World means. It represented just a portion of our team and time, but a useful bit of work nonetheless.